09/16/2021
Window Graphics: Media Options
How to Select the Right Media For Your Windows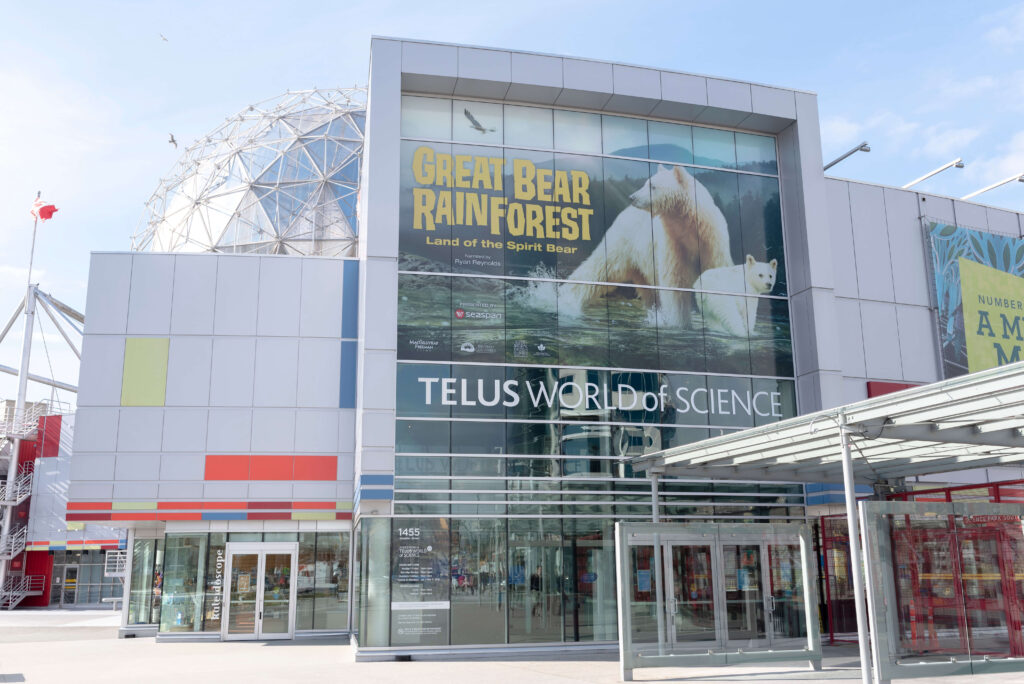 Window graphics are an important part of visual communications, but can be more complicated than you might think.
That's why we've created this special two part series – to inform you of some essential aspects you should know to confidently tackle any window project.
First up is Part 1: Media Options.
Vinyl is the most common window graphic material and comes in a variety of forms.
One of the most important considerations when selecting a vinyl is what environment the graphics will be displayed in, so an appropriate grade can be used.
It's also important to determine whether the graphics will be applied for short term or long term use. Short term usually means a removable vinyl will be used instead of a permanent vinyl. The main difference between the two is the aggressiveness of the adhesive.
(Above): These window were adorned with removable window vinyl. Retailers often use this for short term messages or promotions.
Removable or temporary vinyl can be safely removed within a specified period of time (eg. 6 months after application). Removing permanent vinyl, on the other hand, can be a time-consuming task as there is typically lots of residual adhesive left on the surface and the vinyl itself tends to stubbornly stick, coming off in pieces.
The general rule of thumb for removing any adhesive vinyl is the longer it's applied, the harder it is to remove, so be sure to determine the level of permanence before selecting your vinyl.
Sometimes you may want to put graphics on a window but still see through the window. That's the main benefit of perforated window vinyl – being able to see relatively well through the non-printed side.
An important aspect of perforated vinyl is that the printed image is softened by all the holes in the material; it's not as sharp or vivid and doesn't display as well as unperforated vinyl.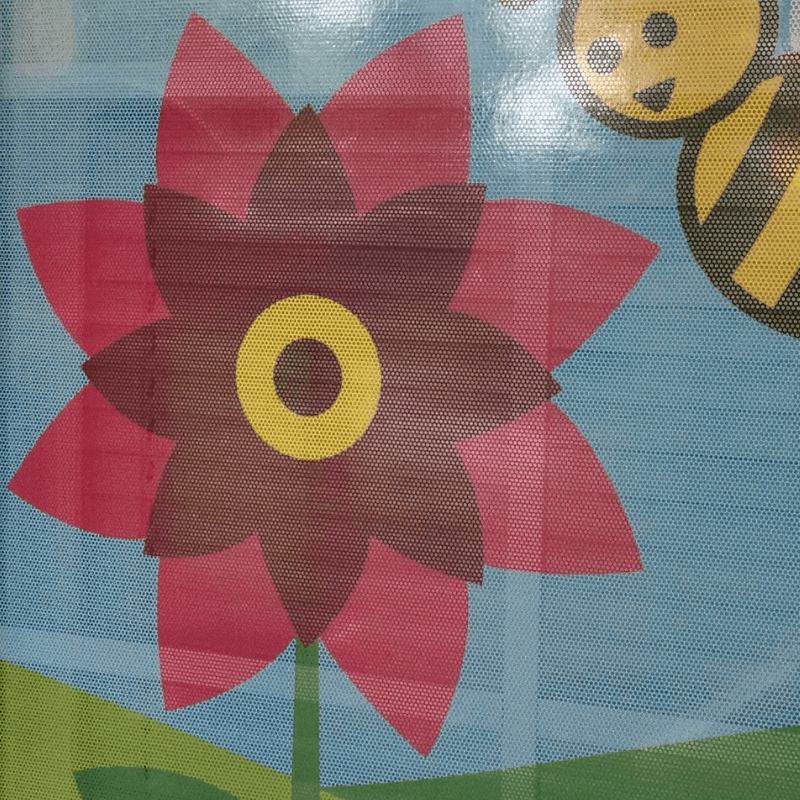 (Above): Perforated vinyl looks good from afar, but close up you can see the holes.
Cling vinyl is a great option for small window graphics and decals. It adheres to windows without the use of adhesive and stays in place thanks to static electricity.
They are easy to install and remove, however proper application is important to avoid any bubbling.
Cut vinyl window graphics typically consist of a coloured stock that is hand or machine cut to shape – creating letters, numbers, and other shapes.
These solid stock colours are commonly referred to as "RTA" (Ready to Apply) vinyl. RTA vinyl is less expensive for basic artwork and shapes because it saves on printing costs.
If you need to match a specific colour however (eg. corporate brand colour), and none of the stock colours are quite right, you can either have your print partner colour match to your specific colour, or you can special-order rolls of a factory-produced Pantone colour (note: there is a minimum order for these).
There are also metallic, iridescent and special effect finishes available in cut vinyl not typically achieved with standard printing.
The other consideration for cut vinyl is the amount of time required to remove all the excess vinyl surrounding the cut figures. This removal process is called weeding, so it is most effective for simpler images or text.
After weeding, to prepare the vinyl for installation, you typically need to apply pre-mask material (low tack adhesive paper) to the front side of the vinyl.
It's also important to note various limitations on design; cut paths must be closed, vector files used, and line thickness minimums observed. Cut vinyl works best if the artwork is basic enough to allow for it.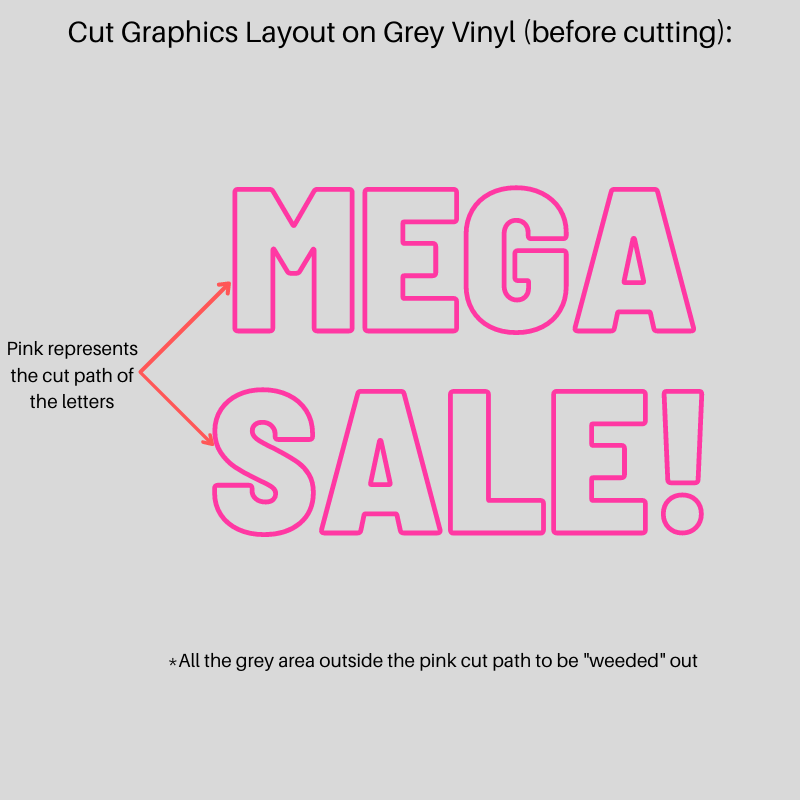 (Above): Cut vinyl graphics can save on printing costs.
Your print partner should be able to advise when and where it makes sense to use cut vinyl.
Etchmark/Frosted Privacy Vinyl
A common request is for "privacy" window film. While this can be printed, there are several non-printed options available.
A factory-produced "frosted" vinyl like Etchmark can be applied to glass or acrylic to give a sense of separation in areas where you'd like privacy but don't want to block out light. This includes storefront windows, change rooms, gyms, offices, etc.
This can be applied in solid sheets or cut into interesting shapes.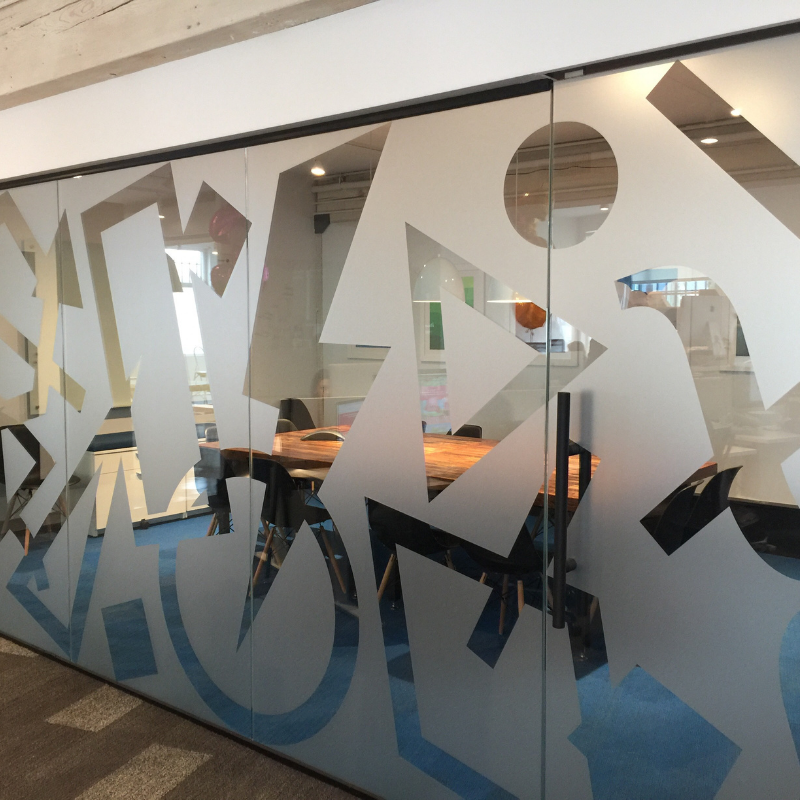 (Above): The pattern cut from this frosted vinyl creates a playful office vibe.
It's also worth mentioning that a variety of high-end specialty materials (like 3M's FASARA line of architectural films) are available in several unique finishes.
Alternative Media Options
Many retailers use other types of media when they have relatively short promotions like monthly campaigns or flash sales, because they allow store staff to easily display them.
The following materials can adhere to the window in a variety of ways. This includes the use of tape (single or double-sided), suction cups, tacky compounds, and hardware or frames affixed to store windows in which promotional inserts can be easily switched out.
In other cases there may be some sort of hardware or frame affixed to store windows in which promotional inserts can be easily switched out.
A variety of conventional paper substrates can be used for window graphics and can be one of the most cost-effective and easily recyclable options.
There are many of synthetic papers that are more durable than regular paper, tending to weather better outdoors, with special water-resisting properties. You will need to confirm with your print partner if your synthetics are recyclable, (here are some sustainable media options we suggest).
A perfect example is YUPO's line of synthetic papers, called Jelly and Octopus. Both of these are PVC-free and adhesive-free.
They use "micro-suction technology"; tiny suction cups that grip to the surface. This unique feature means that they can be installed and removed by almost anyone with relative ease.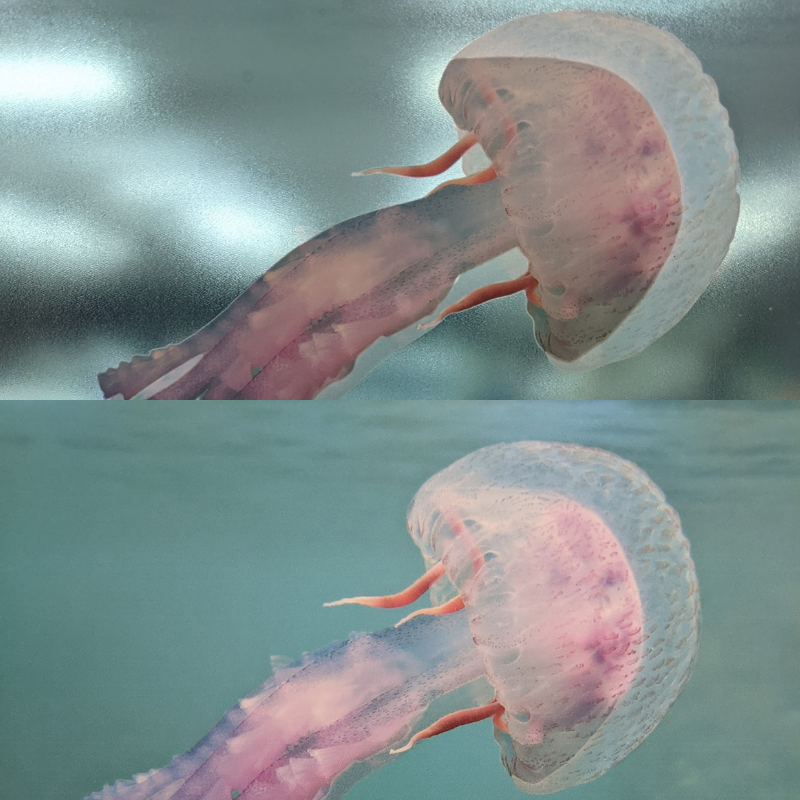 (Above): An image printed on Yupo's clear media "Jelly" (top), as well as the opaque version "Octopus" (bottom).
Coming up: Window Graphics Part 2 (Ink & Design)
If you any questions about media options or any other aspect of window graphics or retail signage in general, please contact our team at Hemlock Display.
Have a project to quote? Get in touch with a Hemlock Display print specialist. We're here to help! 
Have a project to quote? Get in touch with a Hemlock Display print specialist. We're here to help!