10/04/2021
Designing for Window Graphics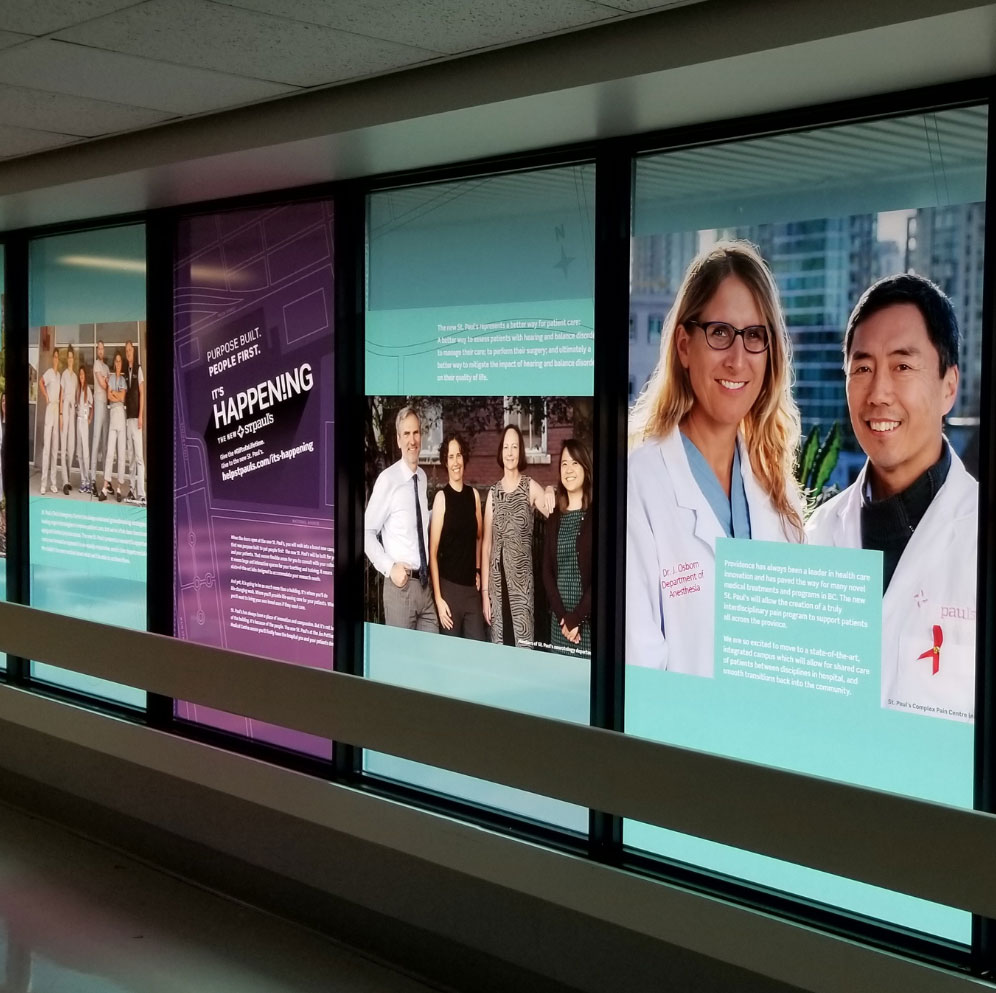 In this second installment of our two-part series on window graphics, we explore different aspects of your window graphics design that will you want to consider.
How to get the most vibrant visuals
There is an important method to getting the best image quality for your window graphics.
It's an ink layering process on clear media that results in images that look great any time of day. Given the right conditions, they can even appear to glow!
The process is consists of printing 3 separate layers (CMYK + White + CMYK) on a clear media.
This gives you an image on both sides, although the image viewed from one side will be the reverse of the other. The advantage to this – when backlit with a strong light source (natural or artificial) – is that the two CMYK layers reinforce each other, creating a vibrant image.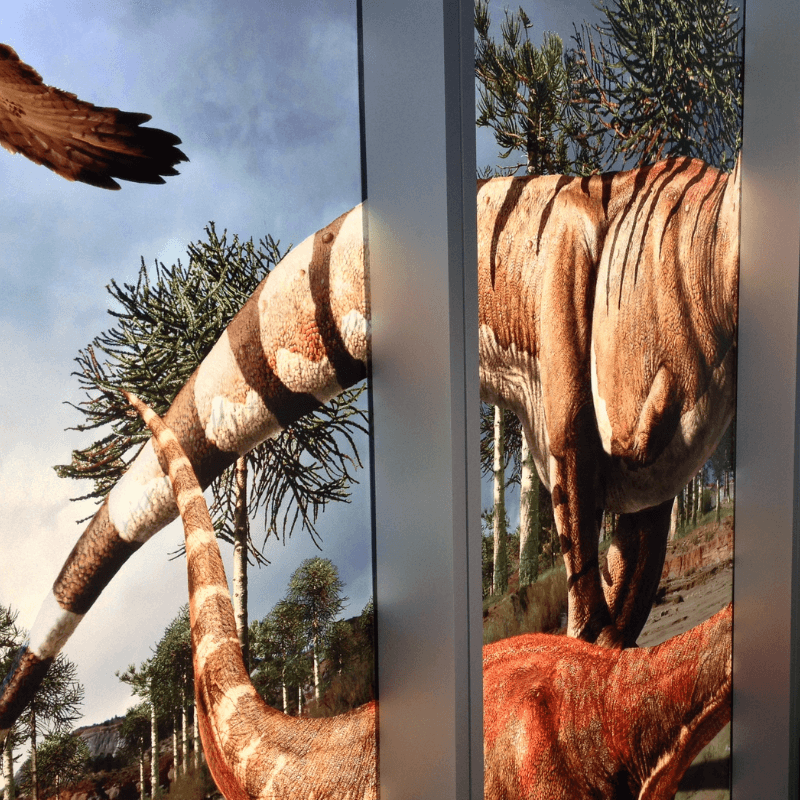 (Above): These window graphics make use of natural exterior light (sunshine) to mimic a backlit image.
What if you need window graphics with different messages on both sides? A common example of this would be a push/pull decal for doors. This would need to be printed on a media with "block-out" properties.
Block-out media has a special layer that makes it completely opaque. This means the light on one side won't shine through the other side, so the front and back images don't disrupt one another. It's important to remember that block-out window graphics will completely block the light coming through the windows.
Because glass is transparent, graphics applied to one side are viewable from the other. So you always need to decide which side of the window you want to apply graphics to when creating your window graphics design.
With that in mind, it's important to distinguish between the 1st and 2nd surface.
Imagine you're standing in front of a window. If you reach out and touch it, you're touching the "1st" surface.
The other side of the window, the one you can't touch, is the "2nd" surface. This is also referred to as the "subsurface".
(Above): 1st surface images lay on top of the glass, whereas 2nd surface images reside behind.
Applying graphics to either surface has respective benefits and drawbacks.
1st Surface application benefits include:
Image won't be obscured by reflections or glare
Installation is easier and any bubbles are less noticeable
Least expensive production method
But remember to consider:
Your image is less protected from dirt and abrasion
Installation can be weather dependent
2nd Surface application benefits include:
Image is protected from surface level dirt, damage, and vandalism
Installation is less affected by weather conditions
Depending on the nature of the project, subsurface can convey a higher-end feel (when using clear acrylic media, graphics are typically printed subsurface)
But remember to consider:
It's likely to be more expensive than a 1st surface application
Installation can often be more challenging
Reflections may interfere with image
Clear Vs. Optically Clear
It's important to understand that "clear" vinyl isn't actually crystal clear.
When looking through standard clear vinyl, objects appear fuzzy. Shapes and outlines can be seen, but sharp details are lost.
If you want true clarity, you need to use an optically clear vinyl. With optically clear, you can see things perfectly – just the same as looking through a bare window.
UV inks tend to be more opaque, whereas latex and solvent inks tend to be more translucent.
This difference sometimes determines which piece of equipment your graphics will be printed on. With varying setup processes and production speeds from one machine to the next, printing on machine A may be more expensive than printing on machine B or C (and vice versa).
Achieving the look you want is sometimes a balancing act – Your PrismTech Account Manager can help guide you in selecting the option that fits best.
In many applications, you have the option to laminate your window graphics.
Laminating is primarily for longevity; for added protection against wear and tear. It can also give your graphics a different look. Gloss, matte, and lustre finishes are most common, with specialty finishes such as Sparkle, Linen, or Dry Erase are also available.
Laminating to enhance visual appeal is more common for wall graphics.
Knowing the advantages of different techniques and materials to suit your project can make the difference between average and excellent results.
If you have any questions about window graphics or other large format print materials, reach out to your Hemlock Display Account Manager or contact us for more information.
Check out our Adhesive Graphics Page for images of our recent work.
Have a project to quote? Get in touch with a Hemlock Display print specialist. We're here to help! 
Have a project to quote? Get in touch with a Hemlock Display print specialist. We're here to help!