06/13/2017
The Ultimate Guide to Outdoor Signs and Exterior Construction Hoarding
Creating site signage for your next development project? All outdoor signage and hoarding projects start as a blank slate, and deciding where and how to begin can be the most challenging part. There are several sign options, some of which are better-suited in certain situations than others.
That's why we put together this comprehensive guide – to help you get started in the right direction.
Below we detail popular and effective solutions you can use for your signage and hoarding projects.
Free-Standing Outdoor Signs
Single and Double-Sided Signs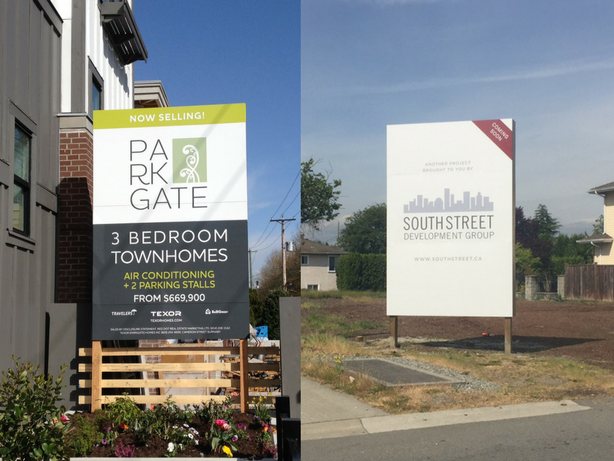 Simple is effective.
Single-sided and double-sided signs are used to maximum effect when situated in a location where there are few other signs in the area, and the majority of traffic is expected to solely come from either a north & south or east & west direction.
These are sometimes referred to as monument or pylon signs as well.
Summary/Features:
A simple and economical alternative for tight budgets
Designed to be viewed from very specific angles
Framing: Typically supported by a wood, metal, or concrete frame custom built to fit desired sign size and elevation (subject to sign bylaw restrictions)
Substrates: Image can be directly printed on certain substrates [ie. ACP (aluminum composite panel), corrugated plastic (polypropylene), MDO plywood] or onto exterior grade vinyl applied to a variety of materials
Some signs can include returns, which are small extensions of the signage or "flanks" on each side. These allow additional information or images to be seen while not directly in front of the sign. It's common to see a website URL or a development name on returns.
While single and double-sided signs are great, they don't perform well in all situations. Especially if you're not positioned at the right angle.
Street corners present one such situation where you might not see a sign if you're situated on the wrong side, or at a bad angle. Corner signs make your messages viewable from more perspectives.
Summary/Features:
Allows for multiple graphic facings, viewable from different angles
Usually quite large to grab attention
Framing: Typically the same materials and structure as single and double-sided signs
Substrates: Same as single and double-sided signs
Panel/Perimeter Construction Hoarding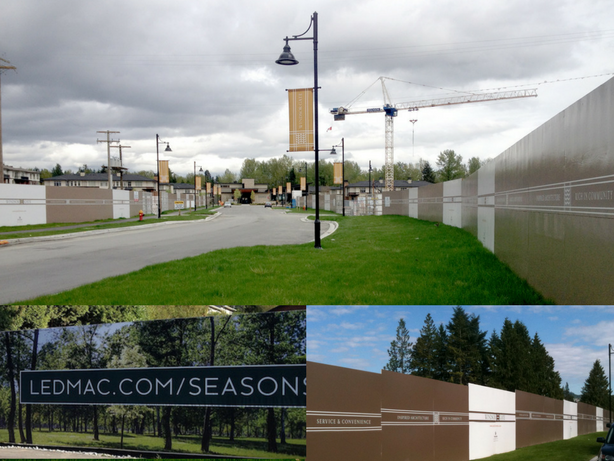 Use perimeter/panel hoarding if you want to make a statement…
Have a long of frontage to cover…
Or must ensure that your signage won't be ignored!
Typically this type of hoarding is very hard to miss, as it can sometimes span an entire block depending on the frontage of the property. At least one portion of the display will always catch your attention.
Summary/Features:
"Wall" of graphics is comprised of one or more adjoined graphic panels
Ideal for construction sites with lots of frontage, or a fenceless perimeter in need of graphic facing (ie. large projects like townhouse and condominium developments)
Costs more than some alternatives, but nicer looking and very noticeable
Hides messy construction activity
Framing: Typically supported by a wood frame
Substrates: Can be printed on exterior grade vinyl and applied directly to panel material (ie. plywood, alupanel), or printed direct to substrate
*INSIDER TIP: Do you want your site signs to last longer?
For extra durability and abrasion resistance, you can have a protective clear coat varnish applied to your signage.
Few print companies can offer this because it requires specialized screen printing equipment. And this coating is not suitable for all substrates. Talk to your print partner to see if they offer this.
For graffiti resistance, you can have an anti-graffiti overlaminate on your signs. This protective layer allows graffiti to be removed from the surface without damaging the print.
KEEP IN MIND: Anti-graffiti material has its limits. There is only a certain window of time within which spray paints and inks can be safely wiped off. Talk to you print partner for more information.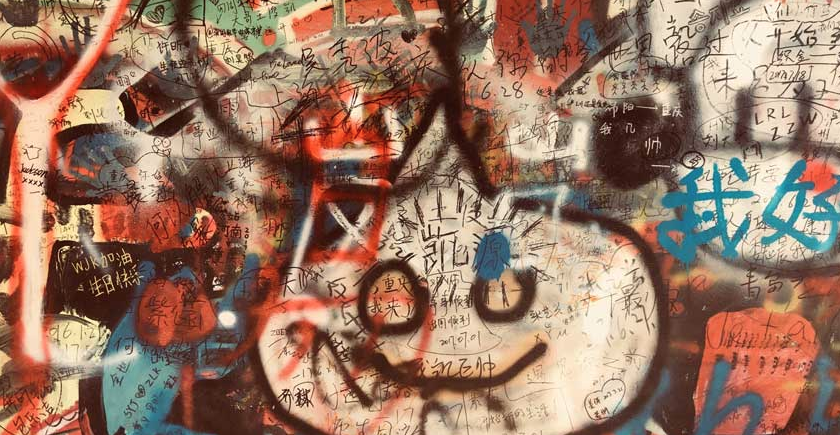 Recommended Materials for Freestanding, Corner, and Panel Signs
(ABOVE): Image pictured here is a lightweight version of ACP by Multipanel UK called ALUPANEL Lite
A lightweight yet durable product commonly used in the signage industry. Consists of a non-aluminum core sandwiched between two aluminum sheets. A popular ACP product is ALUPANEL, which features two aluminum sheets bonded to a Polyethylene core.
Unique malleable properties allow it to be bent, folded, riveted and machined
Commonly comes in white, but other colours and specialty finishes available
Can be printed on directly, or wrapped/decaled with vinyl graphics. Printing direct-to-substrate is more cost-effective, but wrapping is suggested for better longevity
High tolerance against impact and superb resistance to corrosion and UV rays
Comes with a 5 year guarantee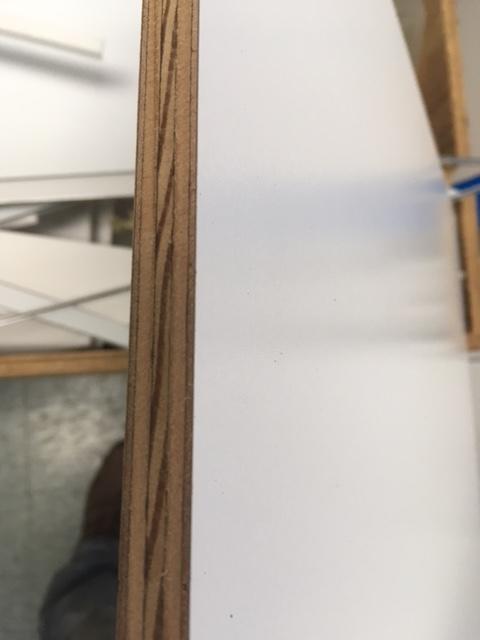 A specially treated exterior grade plywood used extensively in the signage industry.
Unique malleable properties allow it to be bent, folded, riveted and machined
Commonly comes in white, but other colours and specialty finishes available
Coated on 1 or 2 sides with a white enamel that gives it a smooth finish that can be printed on directly, or can accept paint and vinyl overlays
Sheets available in ½" or ¾" thickness, and can be braced together with multiple sheets
Commonly known MDO plywood product is Crezon by Olympic Panel
Banners are a staple of the construction industry. There's a few reasons for this, but the main benefit is user-friendliness.
The ability to quickly put up, take down, and sometimes relocate banners is a necessity. With the size and layout of construction sites subject to changes on the fly, banners are the most flexible and accommodating solution.
Mesh Banners (Construction Fence Wraps)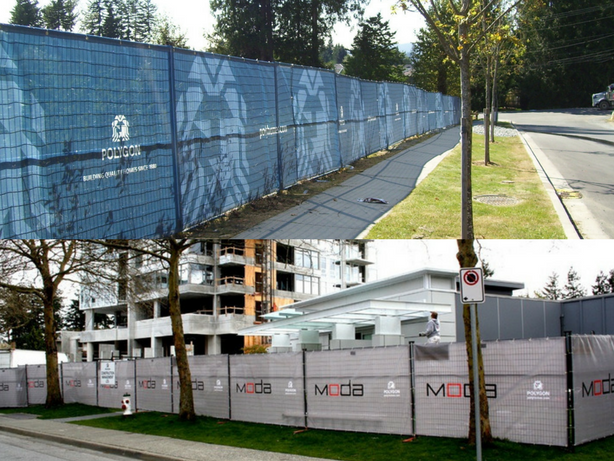 Summary/Features:
Ideal for construction sites with temporary site fencing
Easy to put up and take down; can be reused
Mesh allows wind to pass through holes, avoiding the "sail" effect
Cost-effective vs. panel hoarding
Not intended for intricate or highly detailed graphics
Framing: Custom fitted to temporary fencing system panels (

Modu-Loc

, 

Super Save

, 

Yellow Fence Rentals

, 

Maple Leaf

, chain link fencing etc.)
Brass grommets should always be used to withstand inclement weather and avoid rusting
Typically single-sided but can be printed double-sided
Substrate: Vinyl, nylon mesh (various weights, hole sizes, and colours)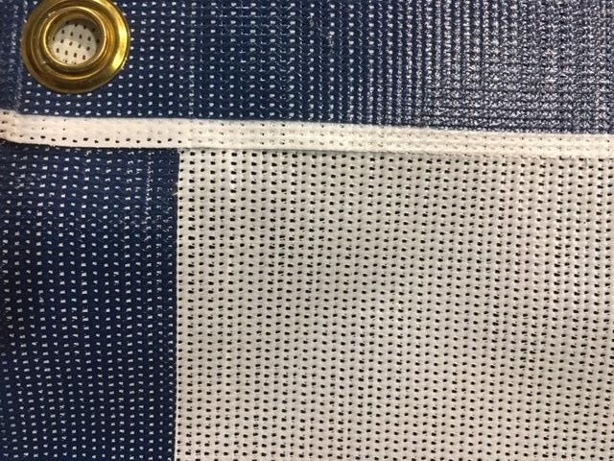 (ABOVE): Mesh Vinyl/Nylon
Available in different weights, but a 70/30 ratio of print area to hole size is ideal in most cases. Colours include: white, black, blue, green, red, yellow, and orange. Generally only white mesh is printable.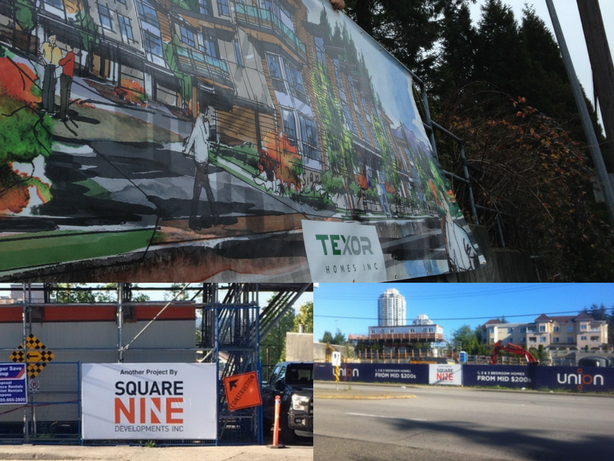 Summary/Features:
Ideal for many applications; very versatile and can be used in many different locations
Like mesh banners, cost-effective vs. panel hoarding or free-standing signage
Can be reused and stored
Typically require wind slits to allow air to pass through without causing the "sail" effect (especially important for large banners at high elevations)
Anti-rust grommets recommended to withstand inclement weather
Seams can be heat-welded or stitched for a more robust finish
Can get a higher level of detail and sharper image than mesh banners because there are no holes
Framing: Designed to be hung in the air, suspended by rope/string through grommets (grommets recommended every 18″)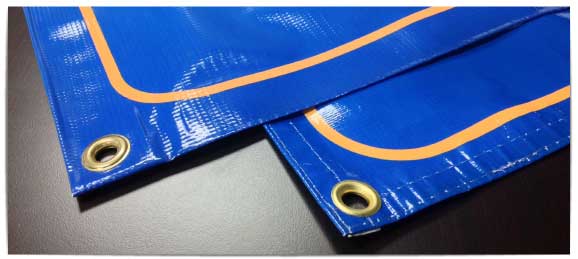 (ABOVE): Vinyl banner
Very commonly used—and for good reason. Relatively cheap and durable.
A Banner Made from Recycled Plastic Bottles?
Yes – it does exist!
"RENEW" is an eco-friendly banner material suitable that's made from 100% post-consumer waste.
Although it can be used on fencing or scaffolding, RENEW is best used when backed by a solid surface (like a wall) that prevents light from shining through from the backside. This is because the material is lightweight and the image can be washed out if light permeates through the back.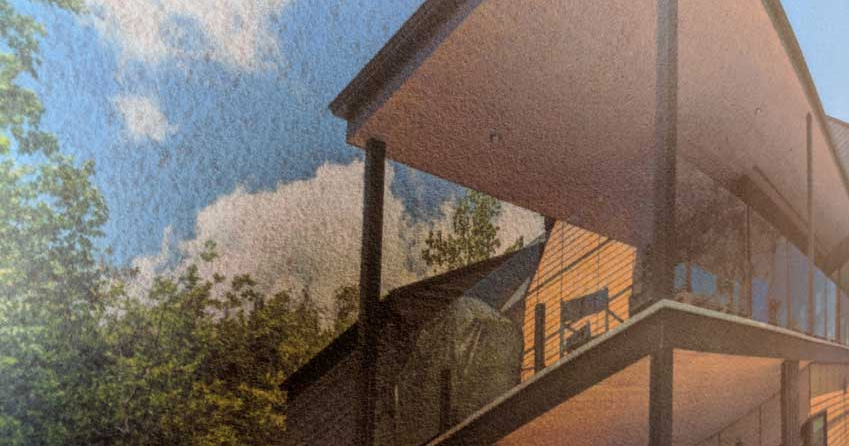 (ABOVE): A close-up view the eco-friendly RENEW material shows its slight texture.
Summary/Features:
Lightweight (similar in look and feel most "pennant" materials; textured & matte)
Made from 100% post-consumer waste
Recyclable
Tear/water/scratch/fade resistant
Non-yellowing
Can be reused and stored
Anti-rust grommets recommended to withstand inclement weather
High contrast images should be used for best image quality
Framing: Recommended for applications where light will not pass through the backside (which would "muddy" the image)
Option: Banner Tracking System
(ABOVE): "C" Track banner system
It can be difficult to keep a banner perfectly taut over time, and sometimes unmanageable elements like weather can cause a banner to sag. Not only does this compromise the message you want to share, it also looks sloppy and has the opposite effect on your brand that you were intending to create when you put the banner up in the first place.
If you want to ensure your banners never droop, banner tracking systems are the way to go. Simple but effective, this system uses cylindrical housing through which the rope sewn into the top and bottom of the banner is fed. The track is affixed to fencing systems or other exterior siding surfaces.
There are some variations of this system, but generally all are quite similar.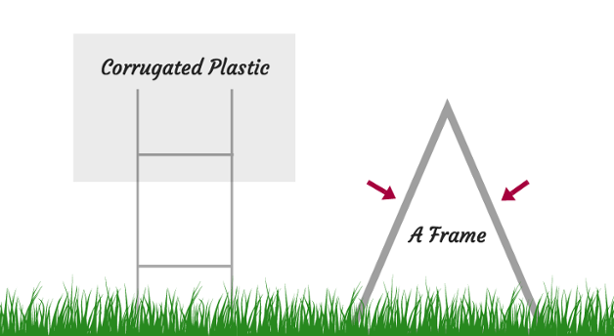 A common use for these types of signs in the construction industry is to direct traffic that is within a close proximity to your development site to the exact location.
Corrugated Plastic Yard Signs
Sometimes referred to as lawn signs, these come in a variety of different sizes, and are generally supported by frames that are easily driven into the ground. The frames or "stakes" are typically made from aluminum wire, however there are several alternative materials used including plastic, steel, and wood. Choosing the appropriate frame depends on a few different variables like the size & weight of the sign, what kind of weather conditions it will be exposed to, and how long it's expected to be displayed.
The most conventional frame is the "H" stand. There are several variations of this, with some including an extra "step" so that the frame can be more easily driven into the ground by foot.
(ABOVE): Corrugated Polypropylene Plastic
Lightweight, waterproof and stain-resistant, this media is one of the most commonly used substrates in the signage industry, particularly for exterior applications.
Least expensive of the main exterior substrates
Recyclable
Direct to substrate printing
Available in various thicknesses (ie. 4mm, 6mm, 10mm)
Commonly known Polypropylene product is 

Coroplast
Sandwich Board (A-Frame Signs)
Sandwich board and A-Frame is another another communication tool developers use to promote and direct traffic to their latest site or showroom. Portable and very simple to set up.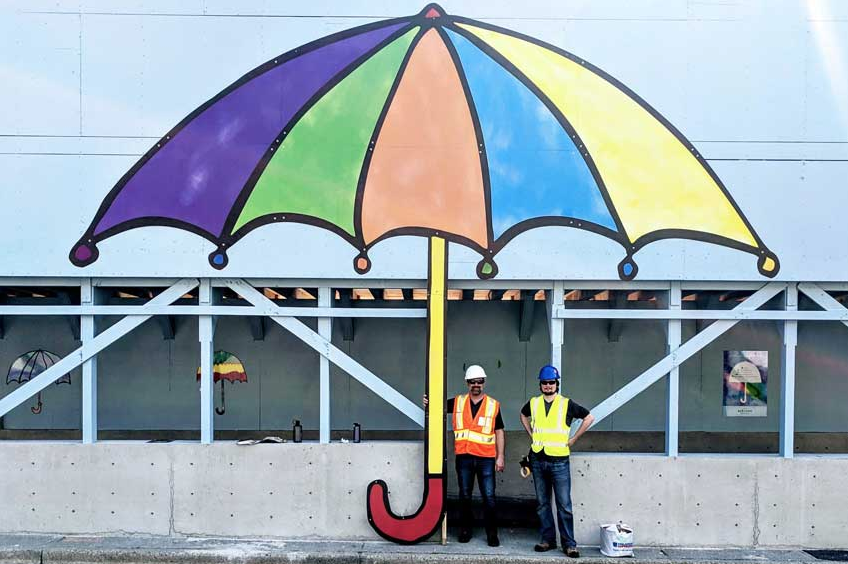 All of the previously described construction signs are well-tested and highly effective, but by no means are they the only solutions available. Sometimes a particular project might benefit from customs signs designed with a specific use in mind.
Not all print companies have the skills or experience to offer something out of the norm, but sometimes that is what's needed to make an idea come to life. Some developers, for instance, are starting to incorporate backlit signage and lettering into their outdoor signage, among other things.
Due to an increasingly hot real estate market, competition amongst developers and construction companies is at an all-time high. It's crucial for your outdoor signage and hoarding graphics to stand out and effectively market your projects.
Have a project to quote? Get in touch with a Hemlock Display print specialist. We're here to help! 
Have a project to quote? Get in touch with a Hemlock Display print specialist. We're here to help!