03/24/2021
PrismTech's Next Chapter: Our Plans for 2021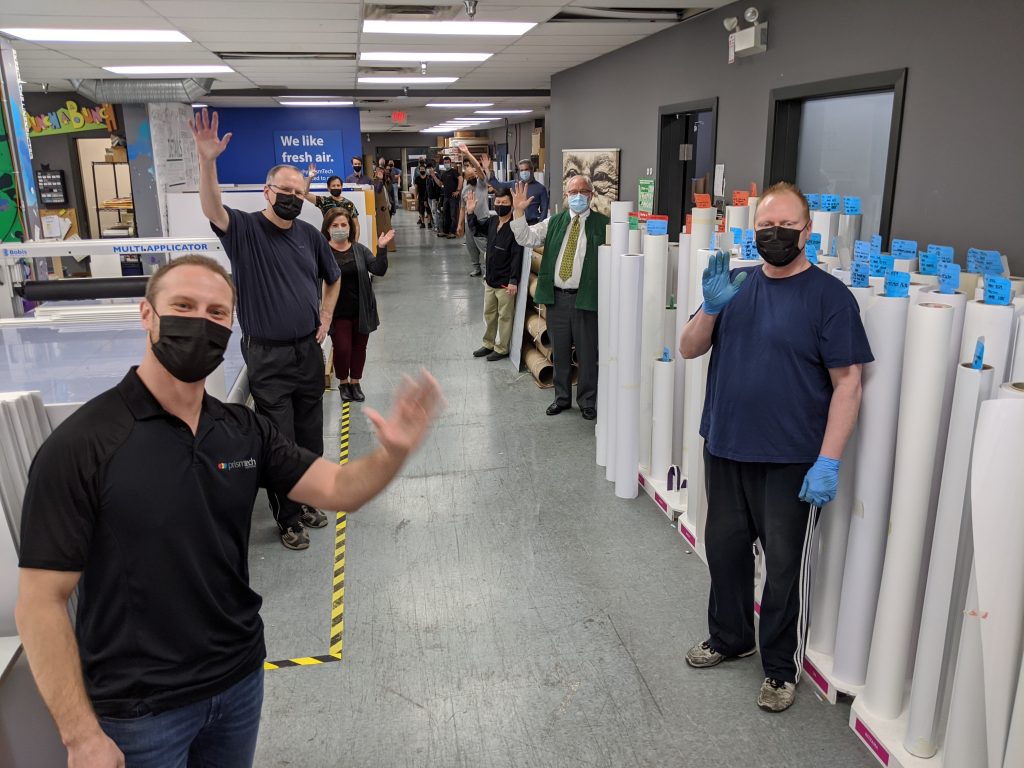 Since our acquisition by Hemlock Printers and PDI Group back in September of 2020, our team has been extremely busy making both large and small improvements to the business as we prepare for a path of sustained growth in the months and years ahead.
In this post, we'd like to provide an update on our progress and priorities. Despite the challenges we've all faced during this pandemic, our team is excited and optimistic about what's to come.
First, a quick summary of what we've been up to over the past 5 months:
We've expanded our team. We welcomed five members from Hemlock's Display division to the PrismTech team. This includes our new General Manager Andrew Howard, who now leads the day-to-day operations at PrismTech. Andrew is joined by Amanda Prystasz, who is part of our Customer Service team, as well as operators Ferdinand Castillo and Erwin Cruz who bring their strong experience to our Production crew. Rounding out this new wave of talent is Mark Shugg, who strengthens our team with years of extensive sales and product knowledge.
We've solidified our structure. We have formalized our Management, Administration, Sales, Customer Service and Production teams and hold regular department meetings to identify and execute priorities for our business.
We've gone national. Working closely with our partners at PDI, we have begun servicing national customers – coordinating production and distribution of retail campaigns from two production and distribution locations. For more information about our national service platform, please

send us an email

.
We have a new website. You're on it right now actually, so welcome! Our new site presents fresh imagery of our facility and completed projects to help educate existing and prospective customers about all we can do. We hope you like the site; feel free to 

send us a message

 if you have any feedback you'd like to share!
Now, looking ahead to the remainder of 2021:
We're implementing a new order management system. A subtle change on the surface but a transformative one inside our business. This system will help us be more efficient across the organization, improving everything from estimates, orders, production, inventory, invoicing and accounting. This implementation is no small undertaking (as many businesses can attest to!), but we're looking forward to completing everything over the next 3-6 months. There are a number ways this new system will benefit our customers, but let's leave that for a future blog post when we're ready to go live!
Green initiatives on deck. We are pleased to offer our clients advice on the most environmentally progressive material choices available in the market today. Our comprehensive waste management processes utilize

environmentally progressive print technologies

. When it comes to sustainability, businesses can always do more and we're committed to continual improvement. Taking the lead from our partners at

Hemlock Printers

, we will be pursuing FSC certification and carbon-neutral operations as important steps in our sustainability journey. Let us know if you have any questions or feedback regarding sustainability at PrismTech.
Storefront and dashboard solutions to simplify procurement. For quick access to standard products and real-time visibility into order status, we will be developing and launching storefront and dashboard solutions in collaboration with our partners. These interfaces will streamline your team's procurement efforts. Let us know if you'd like to learn more about our rapidly developing capabilities in this area. We are excited to marry powerful online tools with a wide-ranging service offering!
Well that is a brief update on the exciting developments at PrismTech. Once COVID restrictions are safely relaxed, we look forward to providing facility tours and in-person meetings. In the meantime, let us know if you'd like to book a virtual facility tour or a virtual introduction to learn more about how we can support your business success!
Have a project to quote? Get in touch with a Hemlock Display print specialist. We're here to help! 
Have a project to quote? Get in touch with a Hemlock Display print specialist. We're here to help!