11/15/2013
Choosing the Right Vinyl for your Banner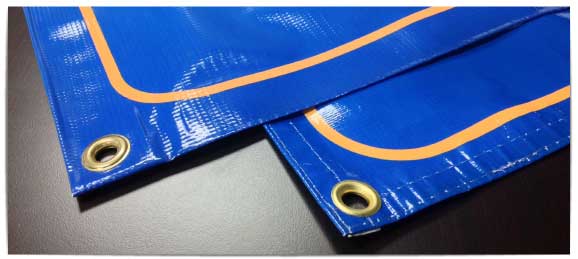 Vinyl banners are an excellent way to produce cost effective, durable and long-lasting graphics. Banners can be produced at just about any size, even large enough to cover entire buildings.
Banner material has two components: a polyester mesh(scrim), which provides strength, and the vinyl coating, which is the print surface. Block-out is a type of vinyl that is completely opaque. This is achieved with an additional black layer in between the print surfaces.
Indoor banners are usually produced on a smooth block-out vinyl. This type of material doesn't have the heavy scrim like outdoor vinyl, so it has a smoother surface and can be printed on both sides. Because it lacks the scrim, indoor banners will tear if stressed with a high load.
A common use for indoor banners is hanging signage. At Hemlock Display, we create pockets on the top and bottom. The bottom one receives a rod or dowel for weight and the top is used to hang the banner from a ceiling or a support. Another use for indoor vinyl banner is retractable banner stands. These use an anti-curl vinyl that is supple enough to be wound into stands but stays flat while extended.
Outdoor banner material is generally specified in ounce weight, for example '13 oz. banner'. This is the weight of one square yard of material. However, not all banner vinyl is created equal: most of the strength comes from the polyester scrim used in the construction which weighs very little.
It's important to consider where your banner is being installed when considering how strong your vinyl needs to be.
Mesh contains holes that allow air to flow through, making it ideal for fences, scaffolding and other structures susceptible to elements like wind and rain. Mesh is also measured in ounce weight, but is significantly lighter due to its holes. The other way mesh is measured is by the amount of air that can pass through the material, expressed as a percentage.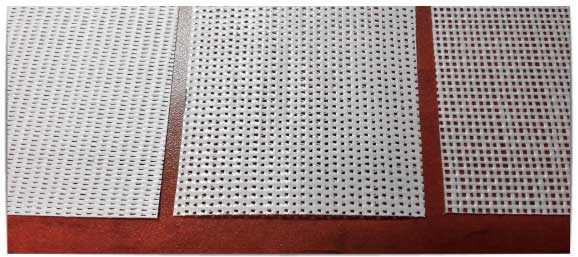 (ABOVE): Mesh banner: Premium 20%, Standard 25%, and High-Strength 30%
Outdoor banners (including mesh) can be finished in different ways:
Hemming: Folding over and securing part of the banner to increase the strength of the edges can be done with banner tape, sewing, or heat welding.
Banner tape: Quick and inexpensive, preserves the 'look', but can pucker when the banner is rolled against the hem, or release after time. Generally we only recommend taping indoor banners.
Sewing: Traditional, strong and time-consuming. Even when stitched with clear monofilament, the stitching is visible on the front of the banner.
Heat welding: Stronger than taping, more attractive than sewing and fast. Our Miller Edge Miller T300 bonds the banner edge together using heat. The Miller T300 can also create pocket hems, and can weld a rope right into the hem for banners that will be suspended across a distance.
Photo: Heat welded banner vs. sewn banner
Grommets: All outdoor banners are grommeted, at a minimum in each corners, but usually every 18" or less depending on the banner size. Grommets complete the hem, and add attachment points for you to hang the banner. Already have wall anchors or necessary grommet locations? No problem, we can put the grommet wherever you need.
Hopefully you're now better informed for your next banner or hoarding project.
Have a project to quote? Get in touch with a Hemlock Display print specialist. We're here to help! 
Have a project to quote? Get in touch with a Hemlock Display print specialist. We're here to help!