06/18/2014
Choosing the Right Material for Your Wall Graphics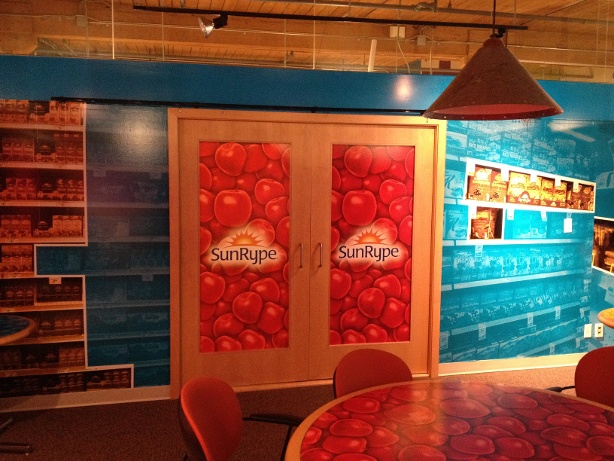 Wall graphics can be printed on a variety of different materials (substrates) – each with their own unique advantages and weaknesses. Which material is best for your project will depend on a variety of factors. Here we cover the most common materials used, and when they work best.
High-quality, removable, self-adhesive vinyl is the most common material for printing wall graphics. They can be installed as is, or laminated with gloss or matte lamination for protection against abrasion — useful in high traffic areas. There are also lots of specialty options when it comes to adhesive vinyl, including vinyls that can be installed on textured walls and unpainted concrete.
Vinyl wall graphics are durable, and convenient. The adhesive designed to hold well, but release cleanly when it needs to be removed. However, the strength of the bond between the vinyl and the wall is very dependent on the paint and how long the graphic has been up. Clean removal is never guaranteed, and you should be prepared to have to repaint the wall when removing a wall graphic, especially if it's been up for a long time.
When you need a nice matte textured surface that looks great and hides minor imperfections in the wall, adhesive fabric may be a better option. Like vinyl, it's easy to apply and remove, making it a perfect solution for short to medium term retail use.
When your wall graphics are going to be changed often, Visual Magnetics® Graphic System is an amazing new option. These magnetic graphics cling to the wall the way magnetic vehicle signs cling to your car.
Simply paint the wall with ActiveWall™ primer, layer Invisilock magnet on that,and voila! you have an interchangeable graphic system for your walls. You can print your wall graphics on a variety of magnetic-receptive medias. Once printed, you just apply them to the wall wherever they're needed.
With no adhesives being used, you can install and reinstall as many times as you need without damaging the paint surface. Layer multiple prints on top of each other to create depth or interactivity. The only limitation is your imagination! Check out some cool install videos here.
Have a project to quote? Get in touch with a Hemlock Display print specialist. We're here to help! 
Have a project to quote? Get in touch with a Hemlock Display print specialist. We're here to help!