01/29/2014
Backlit Signs 101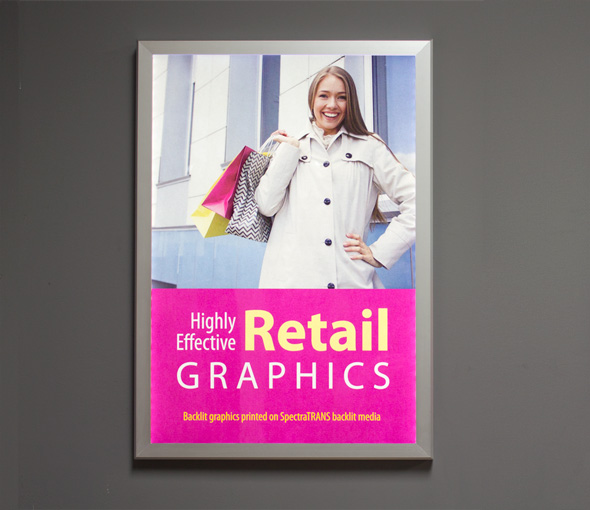 Backlit display graphics are any type of print that's designed to be viewed with a light source behind it. Backlit signs are a great way to: increase visibility, stand out from competitive signs & have your message seen, night or day.
Backlit lighting requires two major components: a Lightbox and the Printed Graphic itself. There are many kinds of lightboxes and graphic styles to choose from and in this blog we'll explain a few of the main types, as well as when to use them.
Choosing the right backlit lightbox for your sign
Generally there are 3 things to consider when choosing a lightbox:
Graphic size
Graphic location
Longevity / durability

There are many types of lightboxes, but here we'll only focus on the top 3 most common kinds of lightboxes you're likely to need:
Fluorescent light boxes use standard fluorescent tubes to light the graphic. They have great diffusion – meaning the lighting is evenly spread across the image and won't cause hot-spots. Fluorescent light boxes are usually deep in order to house the lamps. They're most commonly used outside in places like transit shelters, store-fronts, etc.
LED light boxes are a popular choice because they're exceptionally bright and use very little energy. Unlike fluorescent lighting, LED lights are a point source, meaning that without adequate diffusion they can create 'hot spots' of concentrated light. They require a deeper box or additional diffusers to diffuse (spread) the light without hot spots.
Edge-lit LED light boxes contain LED lights around their edge frame. These LEDs shine into a diffuser, dispersing the light evenly across the image. Edge-lit LED light boxes can be made very thin, are inexpensive and use very little power, making them very popular and ideal for retail graphics.
Choosing the Right Backlit Material
Now that you have a better understanding of what you'll need for a lightbox, it's time to decide on your material to print on. Here are your safest bets:
A thin (7pt) translucent bristol that's specially coated to resist warping in humid conditions. Backlit paper is printed on our UV curing flatbed or Latex roll to roll. Backlit paper is thin and inexpensive, making it a preferred choice for things like bus shelters and other short-term signage.
Thin translucent plastic sheets such as styrene or polypropylene can make very durable outdoor backlit signage like transit signs, theatres, mall displays, etc. This media can either be printed via screenprint or on a UV curing flatbed.
Photographic Transparency Film
Transmissive photographic media is often referred to by the brand name 'Duratrans', or also sometimes called 'translites'. This polyester media can be imaged with a RGB laser based system such as a Durst Lambda or an Océ Lightjet. And because it is photographic the image quality is very high. However, this quality comes at a high price, and Duratrans prints exhibit poor lightfastness when exposed to sunlight. For this reason they are generally used in indoors for high-end retail such as cosmetics, jewelry, and fashion.
Using a similar polyester film as Duratrans, inkjet backlit images is coated with an ink receptive layer instead of photographic emulsion. Printed with our high resolution HP Latex printers, this media is a close rival to Duratrans in quality, only much less expensive and has excellent lightfastness for indoor or outdoor use.
These medias are printed on grand-format inkjet printers with either solvent or latex ink. Generally used for sizes beyond what can be imaged with photographic or large-format inkjet films, vinyl and fabric backlit frames have tensioning systems built in to hold the backlit perfectly flat without any wrinkles. These work so well it's sometimes hard to tell they are not rigid sign faces! Despite the size, these large back lits are easy to roll and ship making them a great choice for retail signage.
Adhesive-Backed Translucent Vinyl
Adhesive-backed translucent vinyl is usually mounted to acrylic or lexan for installation as storefront and other permanent outdoor signage.
As you can see, there are many types of backlit lighting available. And, the kind of hardware and materials you'll need depend on the size and location of the graphic, as well as the amount of punishment it'll need to withstand. For more information, check out this article on why you should consider backlit signs for your next project.
Have a project to quote? Get in touch with a Hemlock Display print specialist. We're here to help! 
Have a project to quote? Get in touch with a Hemlock Display print specialist. We're here to help!