01/10/2014
5 Tips for Designing the Perfect Car Wrap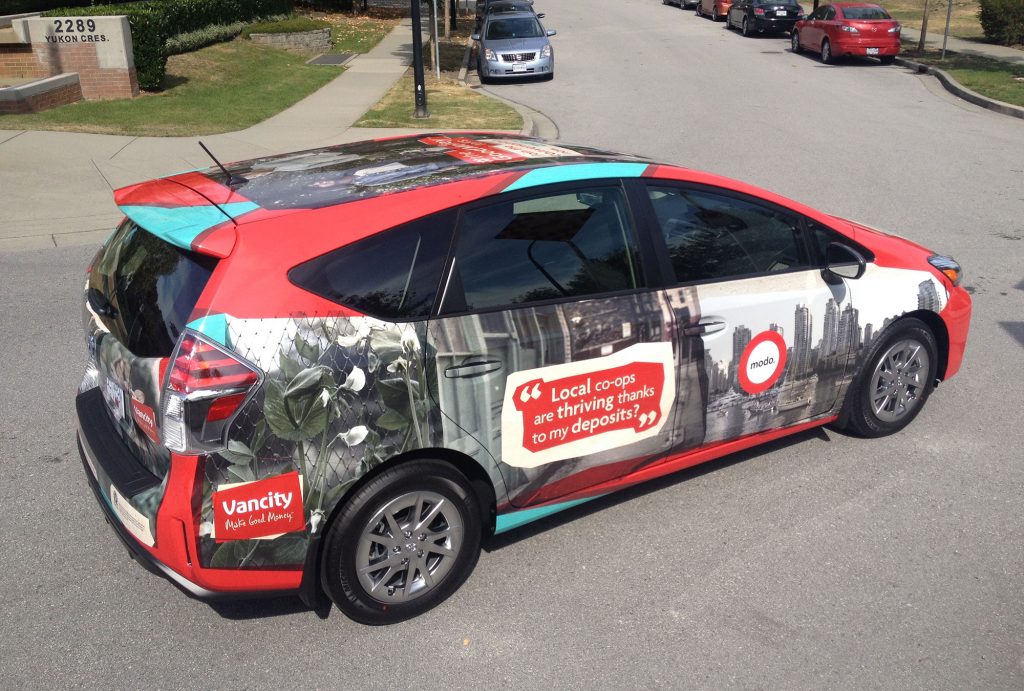 Car wraps, also called vehicle wraps, are among the most difficult challenges a designer will face. There's a lot more to consider when designing a car wrap than say a pamphlet or billboard. Follow these five tips to design your vehicle-wrap the correct way, the first time.
Use Both Templates and Pictures
A good print shop will supply you with a template or outline of your car for you to design (usually an Illustrator file). If you've purchased or made your own template, it's a good idea to run it by your printer beforehand. Not all templates are created equal and using an inaccurate template can become costly once the wrap has gone to print.
Because no template is ever 100% accurate, it's a good idea to take pictures of all sides of the vehicle so you can spot potential issues and identify contours that are sometimes difficult to spot on a template.
In the example below, the air scoops on the front of this Mazda are illustrated accurately in the outline template, but the degree of curvature is only really evident when you see the pictures. The photos can also help you visualize how the various panels go together (ie. how the hood, side and bumper all converge at the headlight).
Every vehicle has problem areas. An experienced printer work with you to identify any potential problem areas and suggest design/installation changes beforehand to make sure your project comes out looking the way it should.
Make good use of layers, both in Illustrator and in any placed Photoshop images. Layers will allow elements to be isolated that may need to be produced as an overlay, or tweak backgrounds. Sometimes a small change will make a wrap go much smoother.
Throw the 'Logo Use Guidelines' Out the Window!
Vehicle graphics is one place you can exercise some creative freedom. You may want to deconstruct your logo a bit to make it work better. Vehicle graphics are all about getting noticed, so big and bold works better. Rotate, add textures and drop shadows. A vehicle is an irregular shaped canvas, so you need to come up with an irregular shaped design!
Interested in having your car wrapped? Check out our Vehicle Graphics page for more information!
Have a project to quote? Get in touch with a Hemlock Display print specialist. We're here to help! 
Have a project to quote? Get in touch with a Hemlock Display print specialist. We're here to help!